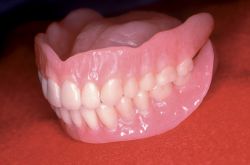 The prostheses are structures or devices that aesthetically and functionally replace the missing natural teeth in the mouth.
There are many types and shapes of dental prostheses.
Can be classified into two main groups:
1. Removable dentures
2. Fixed prosthodontics. Within these deserve a special section Implants.
Removable Prosthesis
Are those that can get in and out, ie not bound to oral structures, but simply anchored in them.
Some are acrylic-plastic pink-This type is used when there are few teeth in the mouth or there is none (complete denture) and also, when the teeth are not in good condition to handle the load of a prosthetic heavier.